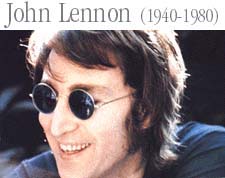 John talks to Bermudian Andy Newmark at Double Fantasy session 1980
The song you are listening to was written by TonyB after John was shot as a tribute to him and my thoughts back then on the state of the planet - NOT much has changed sadly :(
JULY 1980 John and a five-member crew sail to Bermuda on the Megan Jaye. While there he begins to compose music again. John rented a house from a local businessman Rolf Luthie in Fairylands. He loved Bermuda so much that he was somehow inspired to write songs again. One night he went to Bermuda's most famous disco (Disco 40) with his personal assistant Fred Seaman. The DJ there was playing music by the B 52's and John commented that it reminded him of Yoko. Also standing at the bar in Disco 40 were a pair of journalists working for Bermuda's Royal Gazette. It was a Thursday night and typically after the paper had been put to bed the boys would hit the locals bars for a nightcap. Imagine their luck, they walk into Disco 40 and who should be hanging out at the bar but John Lennon. Mark Graham and Gerry Hunt couldn't believe their eyes. Anyway as good jounalists do they started to chat with John. They asked him why he hadn't written anything for ages and why was he dreaming his life away!
They no doubt inspired John to write "Watching the Wheels"...as that song was almost a capture of that night in Disco 40.
When John returned to New York City he decided to record his first album in 5 years, and one of the musicians he hired was Bermudian drummer ANDY NEWMARK. Newmark said that when John first played the songs he wanted to record with the band, the sound of the Bermuda tree frogs could be heard on the demos !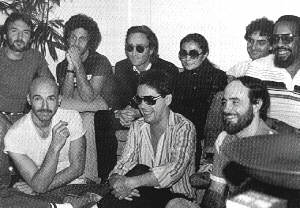 Bermudian drummer ANDY NEWMARK is on Johns left (Hands to face!)
Fred Seaman sent us the album Double Fantasy & Johns new single Starting Over
When Sean was almost five and ready for school, he and John went on a vacation to Bermuda. It was there that John decided to return to the music business, with Sean staying at school all day and everything. So, in August of 1980, he began recording for his final album, Double Fantasy. It was a beautiful album, with different varieties of songs, including the ironic "(Just Like) Starting Over". It was such a success that he decided to make a follow-up album. On the evening of December 8, 1980, the Lennons left their apartment to go to a recording session for this new album. They were about to enter their limousine when they were stopped by a young man. He asked John to sign his copy of Double Fantasy for him. This man was Mark David Chapman, a man whom John would meet up with a few hours from then. When the recording session was over at about 10:30 pm, John and Yoko headed towards their two-mile-away apartment, intending to change clothes and go out for supper. They reached their home and were walking towards the door at about 10:50. Just then, a man, the same man who had asked John for his autograph only six hours before, called from behind the Lennons. "Mr. Lennon?" he shouted. John turned around. Before they could do anything, five bullets were shot into the upper half of John's body. John staggered as far as the doorman's booth, then collapsed, whispering "I'm shot, I'm shot", over and over again.
While the distraught Yoko tried to revive him, the doorman instantly called the police. The man in the shadows who had caused all this remained still, and, with a smirk on his face, was reading a copy of J.D. Salinger's Catcher in the Rye, his gun on the ground.
The doorman kicked the gun off to the side, and asked Chapman, "Do you know what you've just done?" Chapman smiled, "Yes," he said in a whisper, "I just shot John Lennon". John Lennon was pronounced dead, at age 40, on arrival to Roosevelt Hospital. His killer, Mark David Chapman, a 25-year-old obsessed fan, got life in prison. John has since become more than a legend. Fans of all ages worship him, even if they never took a breath of "John Lennon air". John, the "Man of The Decade' for the 70's, lives in all our souls. John Lennon shines on.